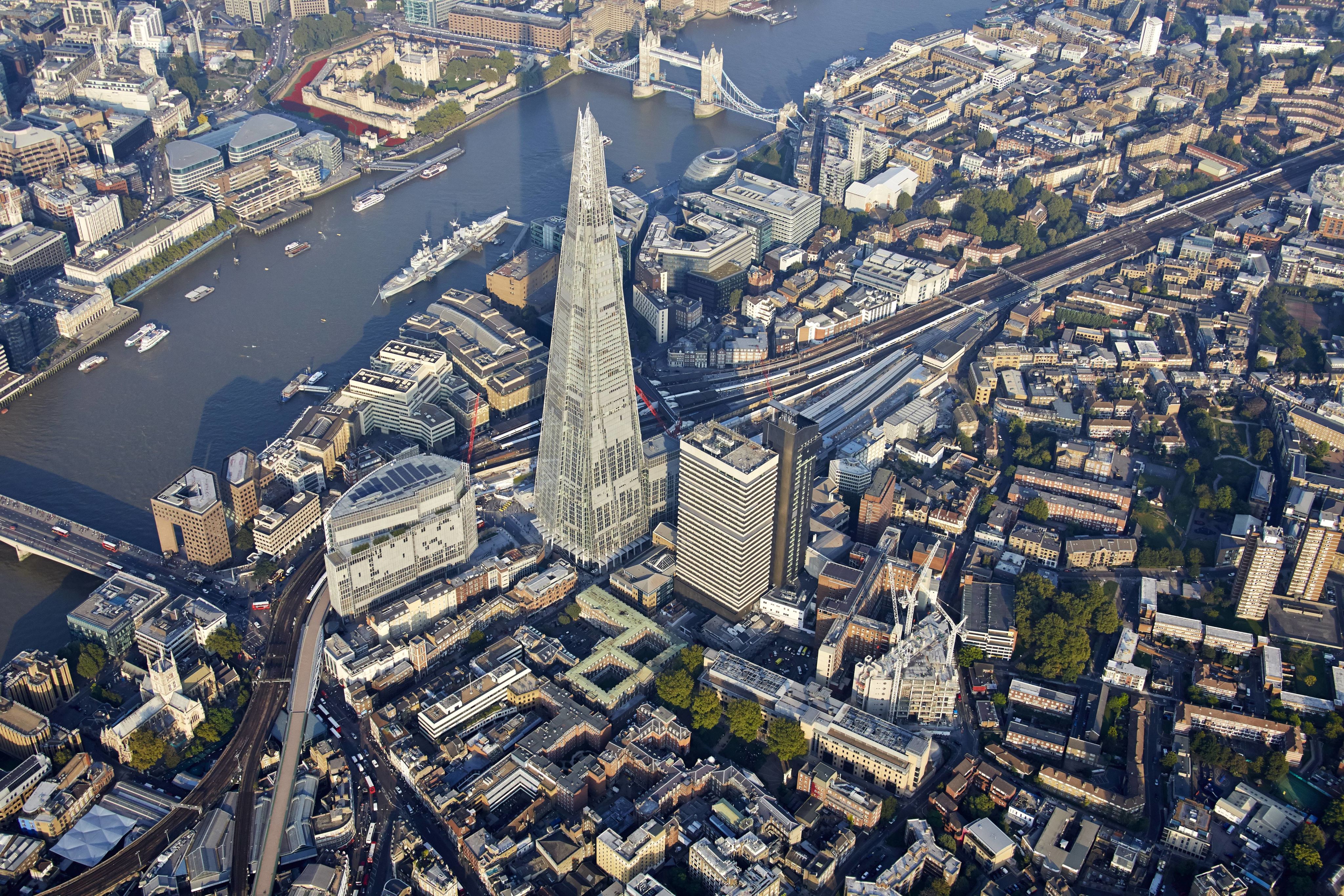 Guy's Hospital dates from the early 1720s, when it was founded by philanthropist Thomas Guy, who had made a fortune as a printer of Bibles and greatly increased it by speculating in the South Sea Bubble.
It was originally established as a hospital to treat 'incurables' discharged from St Thomas' Hospital.
Guy had been a Governor and benefactor of St Thomas' and his fellow Governors supported his intention by granting the south-side of St Thomas' Street in Southwark for a peppercorn rent for 999 years.
Following his death in 1724, Thomas Guy was buried at the hospital's chapel (also dating from the 18th century), in a tomb featuring a marble sculpture by John Bacon.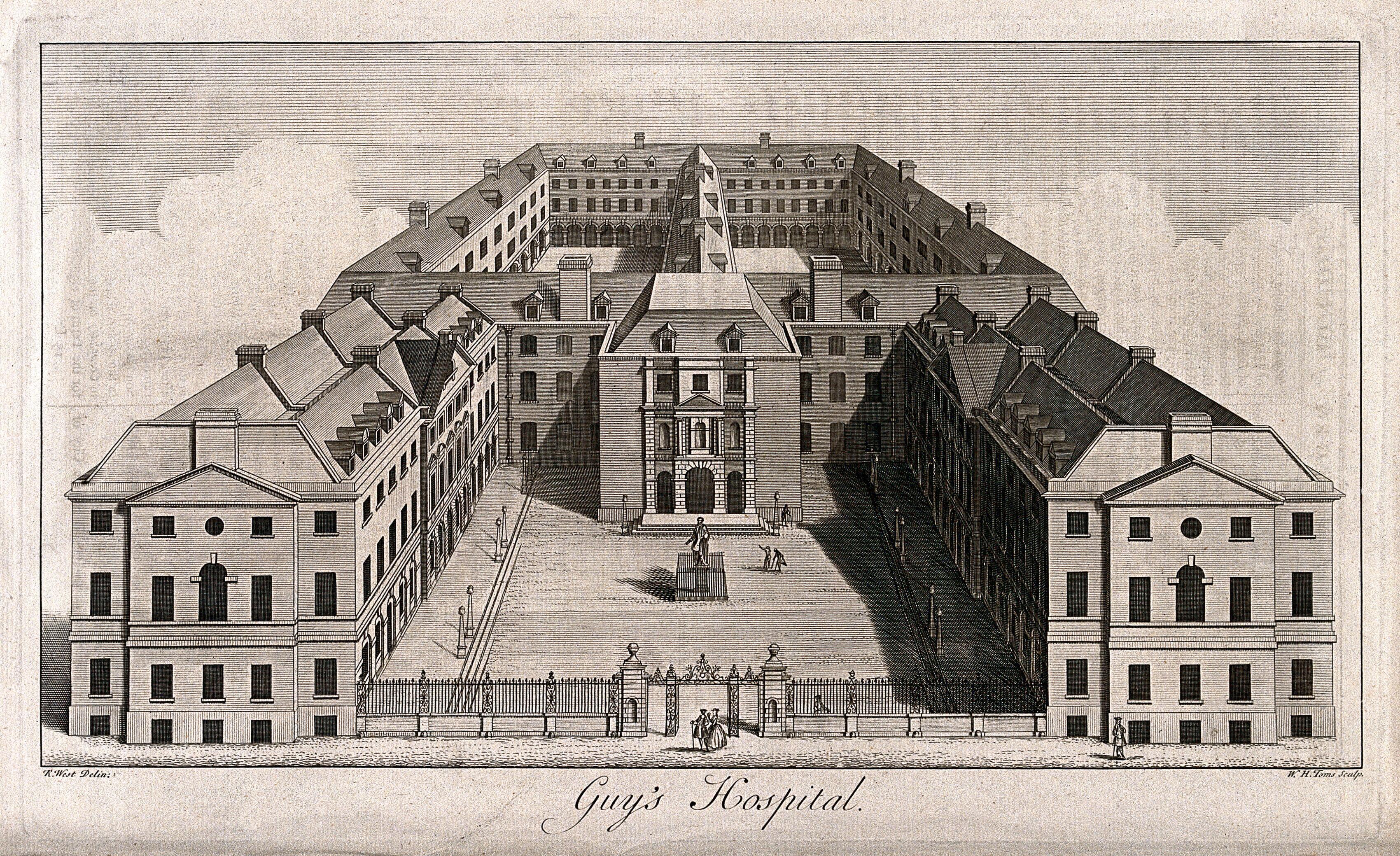 The original buildings formed a courtyard facing St Thomas Street, comprising the hall on the east side and the chapel, Matron's House and Surgeon's House on the west-side.
A bequest of £180,000 by William Hunt in 1829, one of the largest charitable bequests in England in historic terms, allowed for a further hundred beds to be added. Hunt's name was given to the southern expansion of the hospital buildings which took place in 1850.
Two inner quadrangles were divided by a cloister which was later restyled and dedicated to the hospital's members who fell in the First World War. The east side comprised the care wards and the 'counting house' with the governors' Burfoot Court Room.
Tallest hospital tower in the world
In 1974, the hospital added the 34 storey Guy's Tower and 29 storey Guy's House. At 148.65 metres (487.7 ft) high, Guy's Tower (now called the Tower Wing) was until recently the tallest hospital building in the world.
Merger with St Thomas' Hospital
In 1993, Guy's Hospital merged with St Thomas' Hospital to form one hospital trust. Accident and emergency services were subsequently consolidated at St Thomas' Hospital, while Guy's continued to develop as the main academic centre.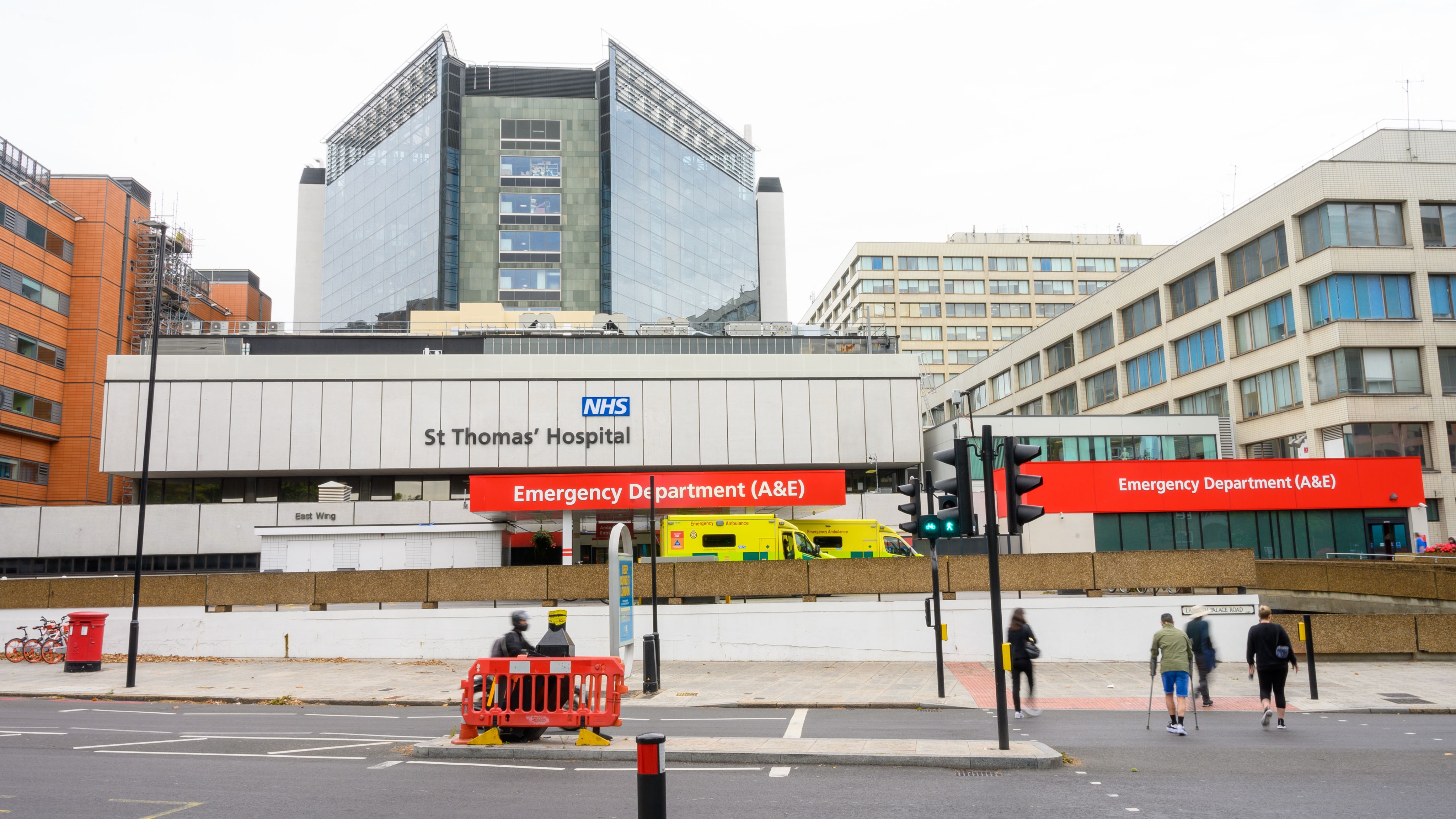 The 2000s
In October 2005 children's departments moved from Guy's to the newly built, dedicated, Evelina London Children's Hospital in the grounds next to St Thomas's close to the Palace of Westminster.
Guy's Cancer
A new £160 million building, Guy's Cancer Centre, was completed in April 2016.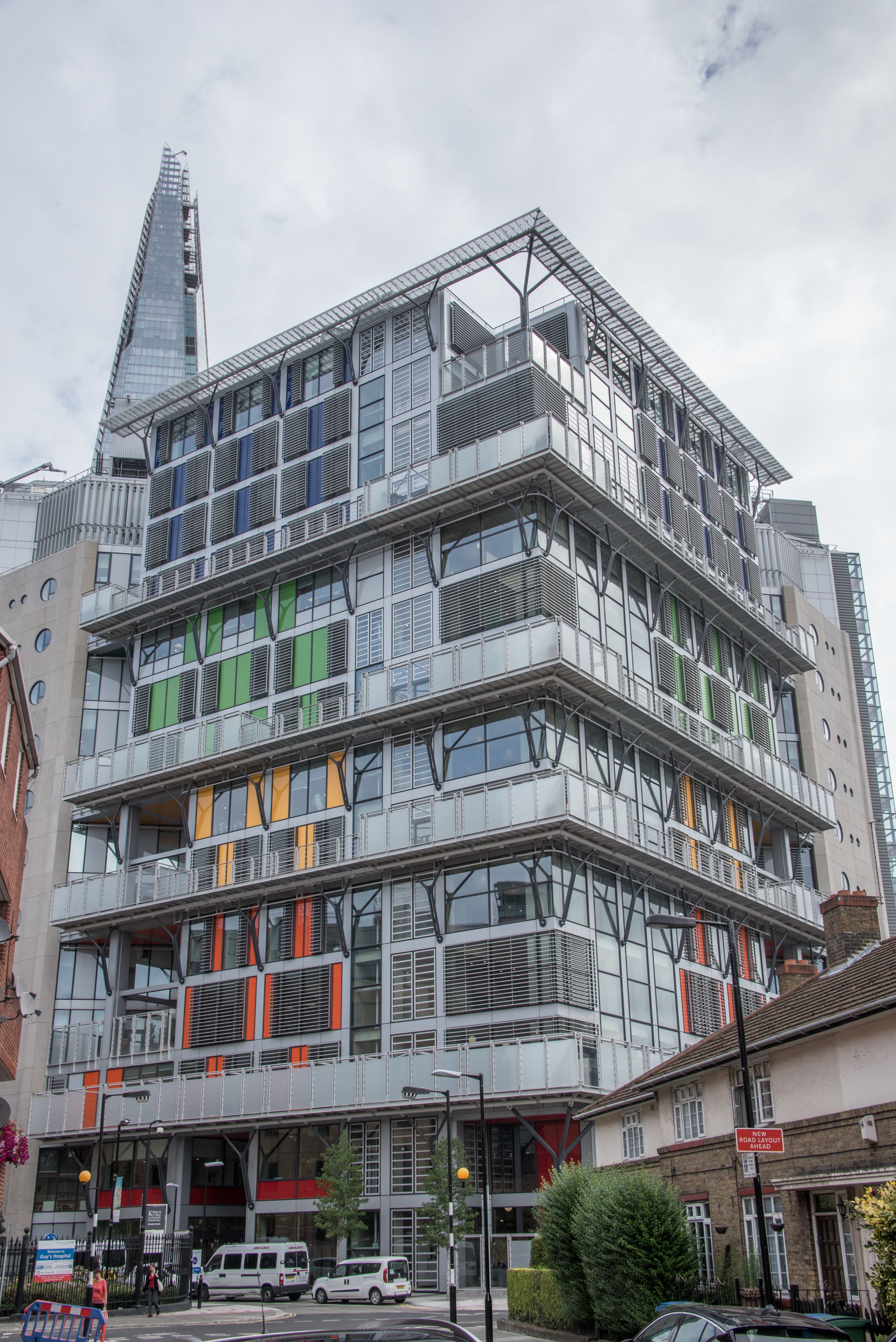 Designed after an international competition by award-winning architects Rogers Stirk Harbour + Partners, Guy's Cancer Centre was the first in Europe to accommodate its six linear accelerators (LINACs) above ground, specifically to allow patients to wait and prepare for radiotherapy treatments in naturally lit spaces greatly improving their experience.
Guy's Medical School
Following the founding of Guy's Hospital as a separate institution, a medical school was also established. Initially this was part of a single medical school with St Thomas' Hospital, commonly known as The Borough Hospitals, with teaching across both sites.
Famously, the poet John Keats trained as a surgeon-apothecary at Guy's from 1815 - 16. A statue of Keats, who also worked at Guy's, was unveiled outside the hospital by poet laureate Andrew Motion in 2007.
After a dispute over the successor to the Surgeon Astley Cooper, Guy's established its own separate medical school in 1825 and for many years there was keen rivalry between it and St Thomas' – particularly on the rugby field.
Guy's medical school eventually remerged with St Thomas' in 1982 to form the United Medical and Dental Schools of Guy's and St Thomas' Hospitals (UMDS).
Subsequent additions included the Royal Dental Hospital of London School of Dental Surgery joining with Guy's Dental School in 1983 and St John's Institute of Dermatology in 1985.
In 1998, UMDS merged with King's College School of Medicine and Dentistry to form The Guy's, Kings & Thomas' Schools of Medicine (GKT School of Medicine), of Dentistry and of Biomedical Sciences.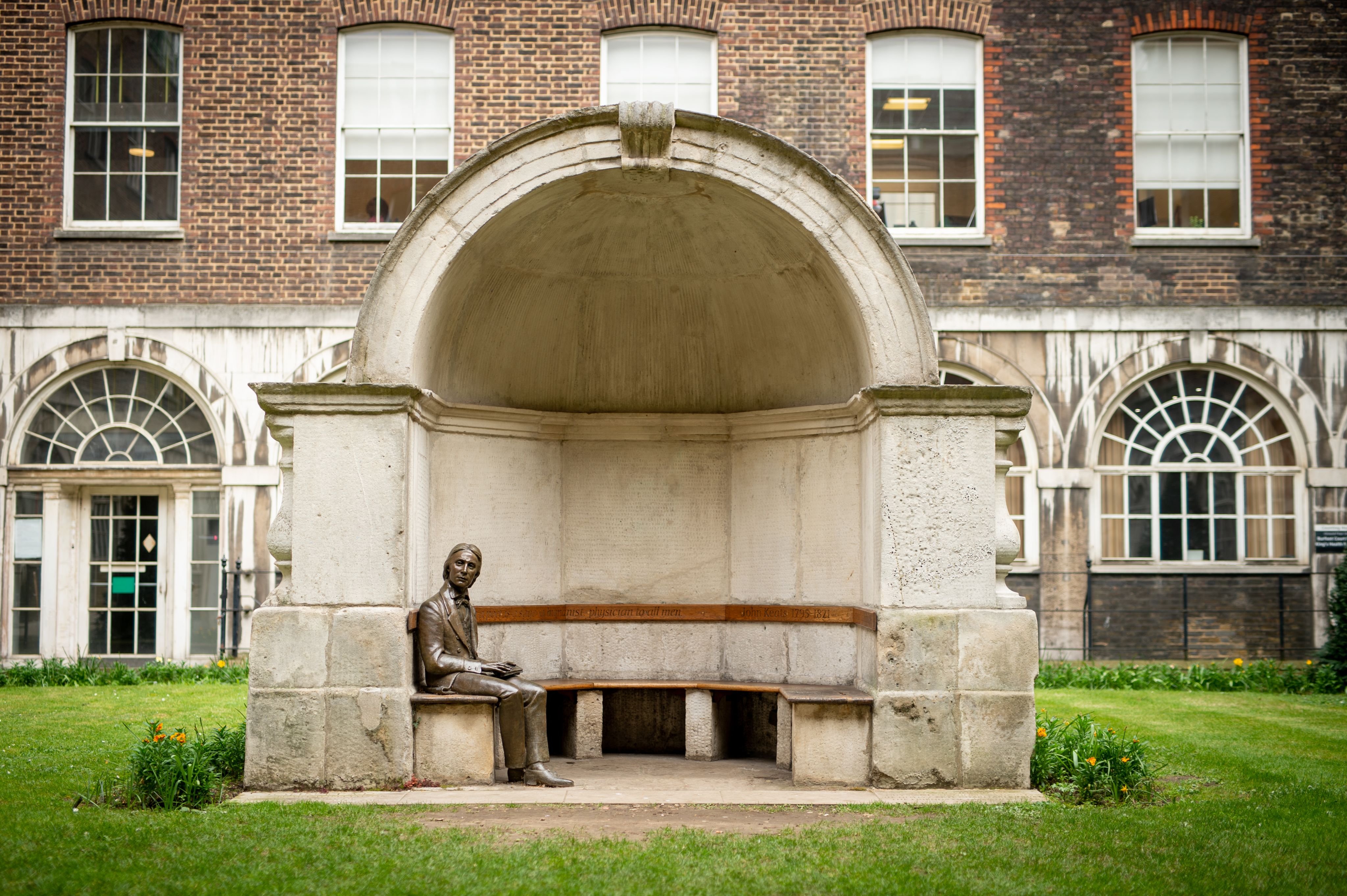 Famous firsts and innovations at Guy's
Guy's Hospital has always been at the forefront of medical developments. These are just some notable firsts we have brought to patients:
1818 – The first experiments in human to human blood transfusion were conducted by James Blundell, who worked at Guy's Hospital.
1824 – Dermatologist Thomas Addison founded the department of skin diseases at Guy's. Today, our St John's Institute of Dermatology is one of the world's leading centres for patients with skin disease.
1928 – Russell Claude Brock graduated from Guy's Medical School and was one of the foremost exponents and innovators of open heart surgery. Similarly, Edgar Sowton, a pioneer in the development of pacemakers, was one of the first people in the UK to perform coronary angioplasty. Today, with St Thomas', Royal Brompton and Harefield hospitals and as part of King's Health Partners, we are the forefront of cardiovascular care in the UK.
1937 – Tissue typing was invented at Guy's. Dr Peter Gorer established for the first time that certain molecules are of major importance in recognising one animal's tissue from another. His method of detecting these molecules formed the basis of tissue typing.
1967 – The first kidney transplant in the south Thames region was undertaken at Guy's.
2005 – A surgical team at Guy's performed the UK's first live kidney transplant operation using a robot.
2015 – The UK's first successful kidney transplants from an HIV-positive donor took place at Guy's Hospital.
2018 - Pioneering augmented reality system which allows experts to provide remote assistance to medical teams anywhere in the world was used for the first time during robotic prostate cancer surgery at Guy's.
2019 – A father became the first person in the world to successfully undergo robotic surgery to remove throat and lung cancers at the same time at Guy's.
2021 – Surgeons from Guy's Hospital and Moorfields Hospital worked together to perform the world's first robotic surgery to remove a tumour next to a grandmother's eye
2022 – Guy's and St Thomas' became the first NHS trust in London to use stereotactic ablative radiotherapy to treat a woman's dangerously abnormal heartbeat, which took place in the Cancer Centre at Guy's.